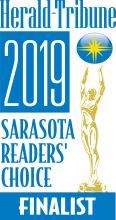 Winner of the Sarasota Herald Tribune's Readers Choice for Best Local Insurance agency for the past 9 years
Alliance Insurance is an Independent Insurance Agency representing many different companies for your insurance needs. We carefully selected our carriers in order to provide you with the best level of service, price and coverage. As independent insurance agents, you have the ability to choose the best carrier for your insurance needs. That is the main advantage to using an independent insurance agency, we work to satisfy your needs.
Our goal is to educate and service the Sarasota, Florida community and throughout the state of Florida. Through our independence, we strive to educate the community on the best options for their insurance needs. We can provide an assessment of your insurance needs with a choice of which package fits you best.
Our Mission
As insurance professionals with over thirty years experience, our goal is to assist you in the evaluation of the financial risks you face. You, our customer, have dreams for your family. Our mission is to "Protect Your Dreams" against financial loss. We promise to determine what is important to you and to explain your coverage and options with integrity and caring.
We'll make recommendations based on your needs and budgetary concerns. We'll offer kindness and sincerity in addressing your questions. Most importantly, you'll get guidance and direction to help you maximize your claim settlement at the time of a claim. You, our customer, are the single most important asset in our insurance agency and we promise to treat you with the highest respect and honor.
We want you to have a positive overall experience with Alliance Insurance. Our one on one service approach is our #1 goal for all our insurance clients. Give us a call at 941-921-6000 or contact us through one of our quote forms, and we'll be happy to answer any of your insurance questions.